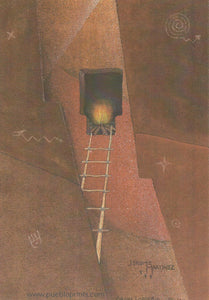 Title: Arons Ladder
Artist: Jerome L. Martinez
This painting was inspired by a young man named Aron Ralston. Many people have heard or read about the story of Aron, who was crevasse climbing in the painted canyons of Utah in 2003, he had an extremely unfortunate accident and was trapped pinned by a boulder, until he had to cut his own lower arm off with his own multi-tool! And survive the elements, until he was miraculously discovered. This is a strong painting and it is a painting of great survival, strength and courage. The five and one half hidden rung on the ladder means the 5 and a half days he endured this trauma.
The Artist has been painting for over 40 years and is one of many talented Great Grandchildren of world famed potter Maria Martinez.  
Please feel free to contact the artist if you have any questions at all.
The overall dimensions range from 8 x 10 to 18 x 24 inches.
Unsigned Giclée print on stretched canvas.