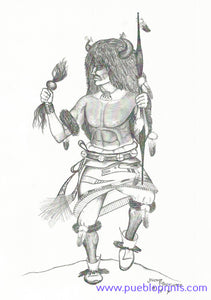 Title: Buffalo Dancer - black & white
Artist: Jerome L. Martinez
A Traditional San Ildefonso Buffalo Dancer. The original was done in pencil on artist board. The artist started out in elementary school as a noted artist who could draw very well. This drawing came very naturally and quickly. Please inquire if you would like to see more of Jerome's original drawings up for auction!
The Artist has been painting for over 40 years and is one of many talented Great Grandchildren of world famed potter Maria Martinez.  
 Please feel free to contact the artist if you have any questions at all.
The overall dimensions range from 8 x 10 to 18 x 24 inches.
Unsigned Giclée print on stretched canvas.