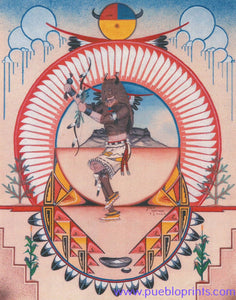 Title: Black Mesa Buffalo Dancer 
Signed and matted by the Artist Jerome L. Martinez

This very powerful painting represents strength, beauty and power. The traditional San Ildefonso Pueblo Buffalo dancer dances in front of the Black Mesa and has a horned Sun Symbol with the Pueblo's famous feather design in white on red. There are also corn plants and cloud symbols surrounding the Dancer.
I have been painting for over 42 years and I am just one of many talented grandchildren of famed San Ildefonso Pueblo Potter Maria Martinez.
Please feel free to contact the artist if you have any questions at all. 
The signed and matted prints range from 8 x 10, 11x14, and 16x20 inches.