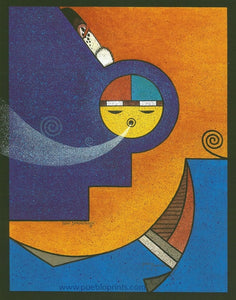 Title: New Spring Wish
Artist: Jerome L. Martinez
Signed and matted by the Artist Jerome L. Martinez
This is a brand new print! It is derived from "Spring Wish" The image depicts a Sun Symbol, sleeping and bringing the promise of a great spring season, the breath that it exhales has wisps of clarity and truth.
I have been painting for over 42 years and I am just one of many talented grandchildren of famed San Ildefonso Pueblo Potter Maria Martinez.
Please feel free to contact the artist if you have any questions at all. 
The signed and matted prints range from 8 x 10, 11x14, and 16x20 inches.