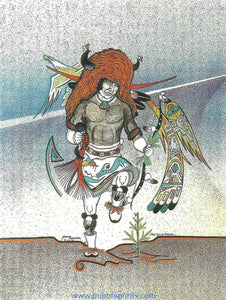 Title: The Sky Is Crying
Artist: Jerome L. Martinez
This painting was created with a message to be heard. It is of a Traditional San Ildefonso Pueblo Buffalo Dancer with a streak in the sky. The streak is a chemical trail which many say are poisoning not only our Tribes but everyone that looks up and sees these. I posted the painting on a very popular social website and requested viewers to name this piece of Art, the name chosen was The Sky Is Crying! A perfect name. The winner received a large signed print. More so there was a lot of very positive input received from all.
The Artist has been painting for over 40 years and is one of many talented Great Grandchildren of world famed potter Maria Martinez.  
Please feel free to contact the artist if you have any questions at all.
The overall dimensions range from 8 x 10 to 18 x 24 inches.
Unsigned Giclée print on stretched canvas.