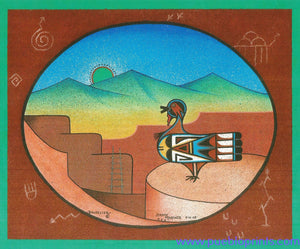 Title: Bandelier
Artist: Jerome L. Martinez
I have worked 12 years as a  professional wildland firefighter and one of the Agency's that I've worked for was Bandelier National Monument which is located in northern New Mexico. The symbol for this National Park is the Turkey Design that was found on petroglyphs discovered there. This painting is a stylized version of that turkey design with a contemporary Pueblo mesa and village motif, with the beautiful Jemez Mountains in the background. This painting was given away as parting gift for a longtime employee. I still visit Bandelier National Monument frequently and I encourage the public to also visit this beautiful park that is rich in San Ildefonso's ancient history.
I have been painting for over 42 years and I am just one of many talented grandchildren of famed San Ildefonso Pueblo Potter Maria Martinez.
Please feel free to contact the artist if you have any questions at all. 
The signed and matted prints range from 8 x 10, 11x14, and 16x20 inches.