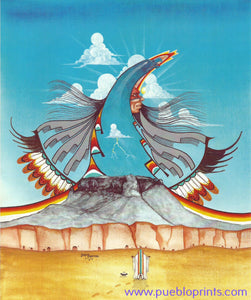 Title: San Ildefonso Pueblo Phoenix
Artist: Jerome L. Martinez
This is one of the artist's favorite paintings. The original is proudly owned by a relative in San Ildefonso. It displays a vibrant Phoenix Bird rising up from the Pueblo's Sacred Black Mesa and within the bird sits a warrior Spirit and the eye of the bird is a shooting star. In the foreground is a figure who is praying in front of this occurrence.
I have been painting for over 42 years and I am just one of many talented grandchildren of famed San Ildefonso Pueblo Potter Maria Martinez.
Please feel free to contact the artist if you have any questions at all. 
The signed and matted prints range from 8 x 10, 11x14, and 16x20 inches.